Mega Expo
Mega Expo Exhibition Company The organizer of Marine Industry of Russia International Marine Forum
Brief Overview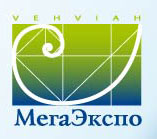 Mega Expo, OOO, is a team of leading exhibition and marketing specialists having over 15 years of experience in organizing the large-scale international and national exhibitions, forums, congresses, symposiums, festivals and business-programmes.
Mega Expo Company, a member of the Russian Union of Industrialists and Entrepreneurs, was founded to implement projects held under the auspices of federal and capital authorities attended by representatives of Russian and international industry associations and unions.
When organizing and holding events, Mega Expo offers its customers full range of services: from building up a concept of exhibitors' participation in the exhibition and developing exclusive stands and presentations to organizing mass media coverage as well as transport and hotel services.
Mega Expo specialists employ best domestic and international practices and most progressive exhibition technologies in order to facilitate promotion of goods and services offered by its partners-exhibitors.