V. Olersky, deputy Minister of Transport of RF, greeted guests, participants and organizers of Marine Industry of Russia International Forum
Dear colleagues!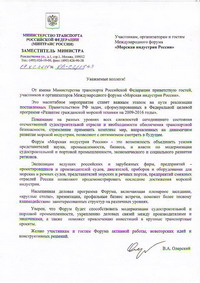 On behalf of the Ministry of Transportation of the Russian Federation, I would like to greet guests, participants and organizers of Marine Industry of Russia International Forum.
This large-scale event is to become an important stage of the implementation of tasks set by the Government of the Russian Federation in the Federal Target Programme for the Civil Marine Equipment for the Period of 2009-2016.
Realization at most diverse levels of all delicacy of current status of the domestic shipbuilding industry and importance of assurance of transportation safety as well as aspiration for applying package of measures to provide dynamic development of the marine industry make it possible to face the future with optimism.
Marine Industry of Russia Forum is an opportunity of joining efforts of members of science, industry, business and authority for the upgrading of the shipbuilding and port industry as well as economic and social development of the regions.
Expositions of leading Russian and foreign companies, designers and manufacturers of vessels, engines, devices and equipment for sea- and river-going ships, representatives of sea and river ports, and enterprises of related industries enable to show the latest advances in the marine industry.
The heavy programme of the Forum comprising a plenary session, panel discussions, presentations, specialized business-meetings is to ensure more close cooperation of concerned structures at multiple levels.
I am sure that the Forum is going to contribute to upgrading shipbuilding and port industry, strengthening business relations between manufacturers and customers as well as attracting investments to large-scale transport projects.
I wish all the participants and guests of the Forum vigorous activity, innovative ideas and constructive solutions.
V. Olersky