Greeting of the Chairman of Board of Directors of the United Industrial Corporation A.V. Gnusarev to the Participants of Marine Industry of Russia Forum
Dear colleagues!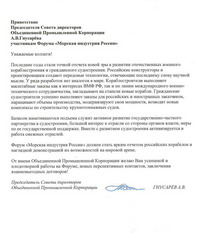 Last years became a benchmark of the new era in the development of domestic military and civil shipbuilding. Russian designers and draftsmen elaborate advanced technologies complying with the last word in science. Some developments are unique. Shipbuilders carry out large-scale orders both of Russian Navy and within the framework of the international military-technical cooperation. They lay down new ships. Civil shipbuilders successfully carry out orders for Russian and foreign customers, increase production volumes, upgrade facilities, and build new complexes for construction of heavy-tonnage vessels.
The outlined growth is based on the active development of public-private partnership in the shipbuilding, great interest of government authorities towards the industry, and government support measures. The development of the shipbuilding entails accelerating efforts of related sectors.
Marine Industry of Russia Forum is to become an outstanding report of Russian shipbuilders and clear evidence of their capacities in the world arena.
On behalf of the United Industrial Corporation, I would like to wish you successful and fruitful Forum work, new prospective contacts and signing mutually beneficial contracts!
The Chairman of the Board of Directors of the United Industrial Corporation
A. V. GNUSAREV