Acting as Chief Executive of OAO «United Shipbuilding Corporation» R. Trotsenko greeted guests, participants and organizers of International Forum «Marine Industry of Russia»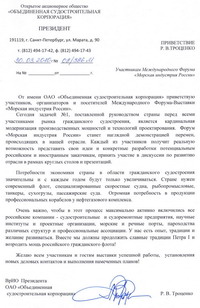 On behalf of OAO "United Shipbuilding Corporation", I would like to greet participants, organizers and visitors of International Forum-Exhibition "Marine Industry of Russia".
The most important task entrusted to all participants of the civil shipbuilding market by the leaders of our country is cardinal upgrading of production facilities and design and engineering practices. Forum "Marine Industry of Russia" is to become a clear evidence of changes in our industry. Each participant will be given a real possibility to present its ideas and developments to potential Russian and foreign clients, engage in discussing industry development within the framework of panel discussions and presentations.
National economy requirements in the area of the civil shipbuilding are great and tend to grow year by year. The country needs an up-to-date fleet, specialized high-speed vessels, fishery crafts, tankers, dry-cargo and passenger carriers. Production of professional shipbuilders is vital for the O&G industry.
It is very important that all Russian companies to join this process: shipbuilding and ship-repair enterprises, scientific institutes and design bureaus, sea and river ports, various shipping companies and professional associations. We possess knowledge, traditions and wish to advance. We are to carry on renowned traditions laid by Peter the First and restore the might of the Russian civil fleet together!
I wish all the participants and guests of the Forum fruitful work, establishment of new business relations and realization of plans!
Acting as Chief Executive of OAO "United Shipbuilding Corporation"
R. Trotsenko