Welcome address of I. Zyablitsky, Director General of FGU "Rostransmodernizatsiya"
Dear colleagues!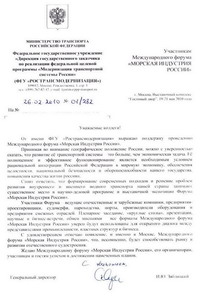 On behalf of the FGU "Rostransmodernizatsiya" I voice approval to holding Marine Industry of Russia International Forum.
With regard to the geographical situation of Russia, it can be said with confidence that the development of its transport infrastructure is more than an economical task. The full and efficient operation of the infrastructure is a prerequisite of the rational integration of the Russian Federation into the global economy, provision of integrity, national security and defensive capacity of our state as well as of improvement of the quality of life of the citizens of the Russian Federation.
It should be noted that creation of modern approaches and solution of development problems of the internal and external water transport of our country hold a prominent place in the scientific-business programme and exposition of Marine Industry of Russia Forum.
Participating the Forum are domestic and foreign companies, design organizations, shipyards, shipping companies, ports, equipment manufacturers and enterprises of related industries. I believe that all of the formats of Marine Industry of Russia International Forum, such as plenary sessions, panel discussions, presentations, scientific and business-meetings, exchange of opinions, will be used for open dialogue between representatives of the industry, government agencies and business.
I note with approval holding of Marine Industry of Russia International Forum exactly in Moscow which, undoubtedly, is to encourage a breakthrough in the development of the domestic shipbuilding.
I wish Marine Industry of Russia International Forum, its organizers, participants and guests success in achieving their plans.
Best regards, I. Zyablitsky
Director General