More on ferry crossings
Ferry crossings were invented long ago. They emerged where it was necessary to cross any water barrier often and construction of a bridge was impossible for one reason or another. Eventually, ferry crossings did not become a thing of the past. They developed and became longer while their facilities are more perfect.
Photo by Marine Engineering Bureau
As transporters, ferries are used, and they can be of various constructions and drivers or self-propelled or not. They can be:
passenger;
automobile;
railroad;
cargo-and-passenger;
Ferries are also classified by traveling speed, materials (river ferries can be manufactured of timber, metal or reinforced concrete while marine ferries are generally self-propelled and metal).
Ferry Crossings
Ferry crossings can be free and fixed. Fixed crossings are equipped with ropes which this way or another mark the guide path of a ferry. Such crossings are not recommended for use in waters accessible to navigation and in water barriers with width over 300 m. If, after all, they are used in such conditions than ropes are to be placed down-current while their anchors in the middle of a bed. Ferries at such crossings are driven by winch mechanisms or tugboats. Hand gear is used only in rather narrow water barriers and for a small ferry capacity.
For very wide water barriers, motor ferries are used. Ferry crossings comprise:
one or several pairs of piers;
a ferry;
a tug (if a ferry is non-propelled);
place for winter parking in frozen water areas and access ways (approaches).
Diesel, steam or gas turbines, diesel-electric plants and, lately, electric engines serve as main power plants at self-propelled ferries. Hydraulic jets, screw and aerial propellers are used as propulsors. The last are used at swift-sailing ferries.
Usage of Ferries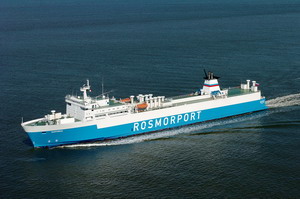 Photo by Marine Engineering Bureau
The ferry construction results in prompt shipping of transport units because majority of cargo and cargo-and-passenger ferries are equipped with one or two sloping ramps for independent entry and exit of vehicles. Railway tracks of railroad ferries are integrated with local railways, and special facilities move railway vehicles to the ferry. Thus, there is no need in handling equipment. Relative expensiveness is a disadvantage of ferries. Also, they transport less clear (net) cargo as well as require special piers and strict traffic schedule compliance.
However, despite their disadvantages, cargo ferries are profitable and actual transport. As for passenger ferries, everything depends on their designation. Touristic ferries are profitable, but, generally, domestic passenger ferry transportation is partly financed from the budget of their respective population centers.
Life rafts for emergency situations and military action crossings occupy a special place. There are so-called amphibious ferries and pontoon sea ferries (PSF) in Russia. They are classicized all over the globe. River and sea ferries, bridge-ferries, ribbon rafts, pontoon bridges and moorings can be based on PSF.
Ferries are used as hydrometric crossings. Generally, they are made from a catamaran or hulk.
Current Situation
Relatively recently, some experts said that soon ferries would give place to bridges, especially at animated crossings. It did not happen.
Today, ferries are frequently used as touristic ships in coastal navigation and in international passenger transportation, so extra comfort is given much consideration: there are many common premises at such ferries (bars, restaurants, dancing floors, etc.). Besides, high-speed hydroplane or air-cushion passenger and cargo-and-passenger ferries emerged.
All over the globe, new ferry constructions (catamaran, trimaran) are designed. New hull forms, materials and engines are offered.
Aerodynamic ferries can become prospective (for example, AERODYNAMIC FERRY M1-NK12 developed by Russian engineers). With 57.5 ton deadweight, this vehicle can carry 35 tons of cargo and travel about 3800 km without refill at a cruising speed of 234 kmh. Foreign designers tried to construct aerodynamic ferries, but even with good projects they, just like Russian designers, need investors.