More on features of mixed ships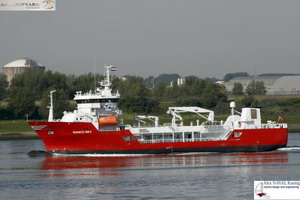 Photo by «Alex Naval Keonig»
As a rule, the design of inland waterway crafts and mixed river-sea-going ships differs from that of ocean-going passenger and cargo ships. Their basic intended use is still water navigation.
There are many types of ships in the Russian fleet; however, the fleet requires urgent renewal since average ship age exceeds 25 years. Certain steps are already being taken. Thus, the Federal Target Program for the development of the RF transport infrastructure in 2010-2015 implies building over 90 passenger and cargo ships for inland water navigation, with governmental financial support and on a public-private partnership basis.
Sea-river-going ships fleet is in a better situation. The downswing in production led to the decline in freight. At the same time, the demand for ships performing direct transportation between Russian river ports and European seaports has increased. Nowadays at Russian docks, shipping companies choose to refit existing inland waterway crafts into or build new mixed sea-river-going ships of a carrying capacity of up to 6.5 thousand tons.
Ships Classification
All inland waterway crafts are classified into four categories by their navigating zone:
for minor rivers;
for large rivers;
for artificially impounded water bodies and large lakes;
for gulfs.
When classifying inland waterway and coastal crafts, there distinguish the following basic classes:
Transport fleet ships represent the most part of inland waterway crafts and mixed sea-river ships. As a rule, they are used for different cargoes transit, but there are passenger and passenger-cargo ships.
Fishing fleet ships which form and class are selected by their navigating zone, piscatory, fish processing and fare storage methods. As a rule, they are small size and small-capacity ships (e.g. cutter – a ship used for trawling fishing in coastal and shallow-water sea areas).
Auxiliary fleet ships – tugs, push boats, fire-fighting and training ships, icebreaker for winter navigation maintaining, etc.
Technical fleet ships – auxiliary ships used for servicing of other groups vessels. They are sewage and dirt boats, transshipment, pilot and rescue vessels, floating lights and dredges, etc.
Characteristic Features of Building and Designing of Mixed Ships
River-sea-going ships combine hull strength and necessary nautical properties of sea-going ships and shallow draft of inland waterway crafts. Operating environment (limited depth, fleet water) impose larger beam-draft ratio than that of sea-going ships, and specific end form. As a rule, river-going and mixed ships are designed taking into account certain cargo type.
Inland waterway craft repair is performed at special-purpose repair yards. At that, small craft repair at yards with significant production capacity makes no economic sense. Specific character of such ship line makes it extremely labor intensive to replace hull structures because of necessity of custom tooling production and using.