Shipbuilding and ship repair in Russia – a brief overview
Shipbuilding in Russia as well as in other countries has always been one of the priority industries. Fishing and merchant ships are critical for the state's economic security while navy ensures its defense. Nowadays, energy sector gains tremendous importance, and it cannot go without fleet for the transportation of petroleum products and the development of offshore fields.
Shipbuilding enterprises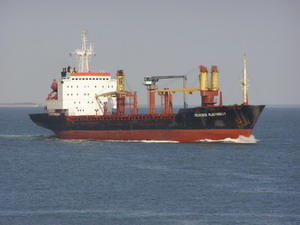 Photo by Marine Engineering Bureau
There are about 160 enterprises in the shipbuilding sector of Russia now; they build warships, sea- and river-going crafts as well as mixed ones, research and fishing ships, icebreakers, shelf development facilities.
Certain features of the Russian law governing the field of foreign trade transportations, insufficient development of domestic ship repair networks and other factors adversely affect the current condition of the Russian sea shipping. Besides, the term of building a vessel at Russian yards often increases 2-2.5 times and the cost of building is higher comparing to those figures for foreign yards.
Traditionally, the shipbuilding enterprises include:
dockyards;
ship-assembly yards;
complex shipbuilding facilities with specialized machining shops;
marine engineering works;
ship-repair works;
delivery points and other special enterprises.
There is weak dependence of shipbuilding facilities' product cycle from other enterprises, while a dockyard works side by side with manufacturers and suppliers of certain units. On the other hand, a dockyard is built quicker and costs less than shipbuilding facilities.
Ship docking, repair and modernization are executed at ship-repair facilities and yards which are to be located in immediate proximity to navigable waterways. Facilities manufacturing ship components and parts may be located anywhere.
Shipbuilding in Russia
Today average age of Russian fleet ships exceeds 18 years, and the significant part of shipboard equipment worked over 20-30 years, etc. For this reason the state support of shipbuilding and ship repair as well as implementation of special-purpose programmes for fleet modernization have become a vital need. Understanding it, the state government enacted a number of important documents such as Marine Doctrine, development plans for various shipbuilding sectors for future years (until 2010, 2015, 2030 and so on).
The attention of the state structures was helpful for the industry; but in 2003-2007, it was inferior to the shipbuilding industry of Japan, China, Korea and Taiwan by growth rate. Even Ukraine, Croatia and Vietnam left Russia behind.
Terms of ship construction depended directly on the receipt of next tranches, and in some cases the delays were up to several years. Insufficient level of engineering companies' development make equal competition with European and Chinese enterprises practically impossible. Besides, deficiency of law and peculiarities of relations with banking structures make it profitable to build ships at foreign yards, register them in offshore zones and exploit under flags of other countries.
But today Russia do has new companies which studied the experience of their foreign colleagues and now they focus on engineering and investigation of actual needs of ship customers.
The world financial crisis significantly changed optimistic development projections for the international shipbuilding sector. It is clear now, that in Asian countries, many small yards are going to come to ruin, and the total order inflow will significantly decrease. These circumstances give Russian shipbuilders a chance, since need for various application ships on the domestic market is very high. First of all the above is true of fishing and carrier vessels as well as of technical fleet ships and various vehicles for shelf works.