Marine Industry of Russia. Day 1
May 19, 2010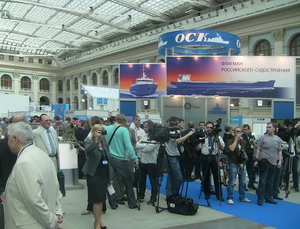 Marine Industry of Russia International Forum got going right away. Negotiations both in Russian and English continue even in cafes, during the lunch-break, "Mass-Media" badges come into view here and there, visitors exchange impressions and participants share their expectations. The plenary meeting "Marine Industry of Russia. Problems and solutions" goes on in the large hall.
The Forum managed to combine the business program with the impressive exposition. Business-like atmosphere reigns all over the place. Even prior to the official commencement of work, appointments and negotiations had been scheduled, while the business program has already envisaged execution of documents important for the entire industry.
The interest demonstrated by the Government and the Parliament of the Russian Federation to the industry problems inspires optimism. Within the framework of the plenary meeting, public agents together with heads of largest shipbuilding corporations have set out major problems, tasks and projects essential to the industry.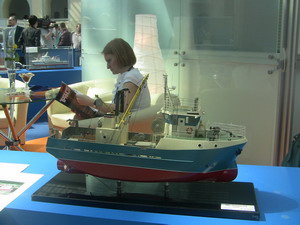 Speaking about production capacity modernization program, Deputy General Director for Civil Shipbuilding Dmitry Mironenkov (OAO United Shipbuilding Corporation) noted that "no ambitious programs have been planned; instead, spot approach will be implemented. First of all this means solving tasks related to constructing marine equipment and transport vessels supporting development of shelf fields. This also means spot modernization activities at existing shipyards. Launch of the modern scrap metal recycling complex at Yantar Plant can serve as an example of such an approach."
Speaking on the implementation of the provisions of the Marine Doctrine of the Russian Federation until 2020, director of the OPK project "Shipbuilding" Andrey Fomichev suggested to include one of the industry's most important clauses into the draft address of the Forum participants to the Chairman of the Government of the Russian Federation: "A necessary regulatory environment needs to be developed to make it possible to apply for a ship construction loan using, among other things, the vessel under construction as an additional collateral. It is everyday practice abroad and Norwegian regulations in this regard can be used as a model."
The plenary meeting continued in the afternoon with discussion of a number of topical issues. Altogether, everybody notes that the Forum meets European standards: strictly business-like environment, absence of casual visitors, participation of major market players and discussion of actual problems of the industry.
Photo Memos from the Forum
Before the official opening

VIP

delegation at a participat's stand

VIP

delegation at a participat's stand

VIP

delegation at a participat's stand

VIP

delegation at a participat's stand
Interview with the Chairman of the Council of the Federation Commission for National Maritime Policy
Participants' stands
Participants' stands
Before the official opening
Models
Models
Read also: