Marine Industry of Russia International Forum continues working. The Business Program of the second day promises to be very active for all the participants
May 20, 2010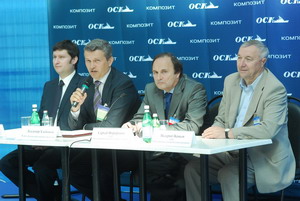 Today, on May 20, the Forum has begun with signing of a master agreement between OAO United Shipbuilding Corporation and Composite Holding Company.
At the signing, OSK was represented by Vice President S. N. Forafonov and Composite HC was represented by V. V. Khlebnikov.
The representative of OSK congratulated attendees on the opening of the 1st Marine Industry of Russia International Forum. Sergey Forafonov said: "Forum is a part of our work. Here we gather with our colleagues. We meet and find future partners and customers. These meetings help reveal shortcomings and conceive achievements."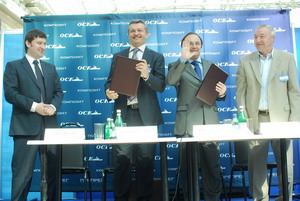 S.N. Forafonov noted that the parties have come to the agreement not at once. It took some time to exchange opinions, harmonize the vision of the future cooperation, and hold meetings and detailed discussions. He is sure that nowadays obsolete technologies used in construction of surface and subsurface ships cannot serve as reference points. The future is in new materials with excellent performance. Despite high cost, they have long service life and very good qualitative indexes. Composite materials – fiberglass clothes, plastics – are extra strong materials "ships, and especially trawlers, cannot be constructed without."
The Agreement will encourage further business contacts and active cooperation not only with existing companies – such as Sredne-Nevsky Shipbuilding Plant – but with many other Russian and foreign shipbuilding enterprises.
First Deputy General Director of Composite HC V.V. Khlebnikov told that the company was organized not long ago, in 2009, and is engaged in production of composite polymeric materials – textile-based carbon fiber. Its main partners are Russian Technologies State Corporation, Rosnano and Rosatom.
Vladimir Khlebnikov said: "The signing of the Agreement is an apparent breakthrough ensuring further development of mastered technologies as well as continuation of scientific research to make the product more advanced and innovative."
Read also: