Marine Industry of Russia International Forum. Day 2
May 20, 2010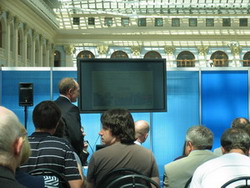 Usually the second day of industry exhibitions and other events is the most informative and fruitful. Here, at the Forum, after yesterday's impetuous start, it is hard to imagine that the work can be more arduous. It turned out absolutely different.
More than 50 reports and debates at panel discussions and about 10 presentations were announced within the framework of the Business Program. It is easy to picture a working day of tens of various specialists who have gathered today at Gostiny Dvor. Two halls designated for panel discussions and the open presentation platform were not empty a single minute. Almost every speaker spent at the platform more time that it was planned since present journalists, designers and other specialists of the marine industry expressed keen interest, began discussions and shared experience.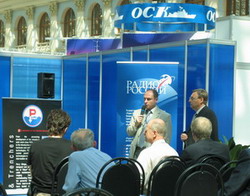 The environment was actually working. There was no officialism or monotony. Topical questions, informed opinions, professionals and the coffee-break which by unanimous agreement became three times shorter.
Panel discussion moderators divided all claimed reports by theme groups. That is why move from one theme to another was smooth and logical. Thus, for example, at first general problems of the industry were considered in one of the halls, and then panel came to competitive growth in Russian shipbuilding. Offers and opinions were voiced and there was even an attempt to start debates.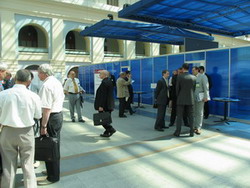 Some participants believe that use of cost-effective imported components in construction of Russian ships should become common practice, since it ensures reduction of their cost and makes them more attractive for the global market. Another point of view, by contrast, is based on the position that in the absence of effective protective measures and all-out support to Russian aggregate manufacturing, competitive power and rise of the industry are out of the question.
A spectrum of problems regarding programming support to shipbuilding enterprises was considered, starting from business control systems to versatile use of 3D modeling.
Besides, in the very beginning of the working day an industry significant cooperation agreement between OAO United Shipbuilding Corporation and ZAO Composite Holding Company was executed. For more information, read the preceding news on our site.
Photo Memos from the Forum
| | | | |
| --- | --- | --- | --- |
| | | | |
| Walking around the exposition | TetisPro diving suits | The work is humming | Lively discussion |
| | | | |
| Welcome to the stand | Happy visitors | Panel discussion «Civil Marine Shipbuilding: Tasks and Solutions» | Director of Sales of Mega Expo Elena Markovskaya |
| | | | |
| Manager of Mega Expo Anna Zinkevich | Panel discussions | Panel discussions | The Forum Business Program |
Read also: