Marine Industry of Russia International Forum Opened!
May 19, 2010
On May 19, Marine Industry of Russia Forum started. Representatives of the Forum Partners greeted all attendants at the solemn ceremony.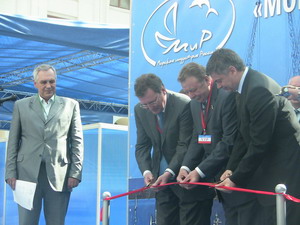 Executive Secretary of the Marine Board of the Government of the Russian Federation Aleksander Leonidovich Balyberdin read out the welcoming address of the Government of the Russian Federation. Deputy Prime Minister wished to all "new achievements and success as well as confidence in attaining targets, health and prosperity."
Director of the Department of the Shipbuilding Industry and Marine Equipment of the Ministry of Industry and Trade of the Russian Federation Leonid Vasilievich Strugov told on the most essential current projects in shipbuilding and upgrading port facilities. He finished his speech mentioning: "We expect the Forum will bring new contacts, new business appointments, so I wish all the Forum participants fruitful collaboration."
Chairman of the Transport Committee of the State Duma Sergey Nikolaevich Shishkarev expressed his hope that the Forum would become a traditional industry event. "And if today the Forum is held in Moscow, tomorrow exhibitions will probably be held in Severomorsk, Severodvinsk, Murmansk, Saint-Petersburg, at the Far East and, I hope, in my home town, Novorossiysk." During the speech an opinion was voiced that Marine Industry of Russia International Forum makes it possible to observe Russia's shipbuilding market in miniature.
Participants of the Forum were greeted from the main Forum stage by Vice President of RUIE Viktor Mikhailovich Cherepov, Chairman of Board of DirectorsVSK Insurance House Sergey Alekseevich Tsikalyuk and Deputy General Director of United Shipbuilding Corporation Dmitry Evgenievich Mironenkov.
After ribbon cutting ceremony which by L.V. Strugov, V.A. Popov and S.N. Shishkarev took part in, the official opening was completed and VIP-delegation went to familiarize itself with the exhibition.
Marine Industry of Russia Forum has opened and the work is humming!
Photo Memos from the Exhibition
| | | | |
| --- | --- | --- | --- |
| | | | |
| Exposition - Overall picture | Forum organizers | Music score at the opening | The official opening ceremony. The main stage of the Forum |
| | | | |
| Mass-media | VIP delegation of public authorities and businessmen | Master of Ceremony - Lev Mikhailovich Klyachko, General Director of OAO TsNII Kurs | Aleksander Leonidovich Balyberdin - Executive Secretary of the Marine Board of the Government of the Russian Federation |
| | | | |
| Leonid Vasilievich Strugov - Director of the Department of the Shipbuilding Industry and Marine Equipment of the Ministry of Industry and Trade of the Russian Federation | Viktor Mikhailovich Cherepov - Vice President of RUIE | Sergey Nikolaevich Shishkarev - Chairman of the Transport Committee of the State Duma | Sergey Alekseevich Tsikalyuk - Chairman of Board of Directors of VSK Insurance House |
| | | | |
| Dmitry Evgenievich Mironenkov - Deputy General Director of OSK | Andrey Borisovich Fomichev - General Director of OAO Severnaya Verf Shipbuilding Plant, General Director of OAO Baltiyski Zavod, Director of OPK Shipbuilding Project | Solemn opening of the Forum | L. M. Klyachko, L. V. Strugov, V.A. Popov, S. N. Shishkarev - from left to right |
Read also: