Panel Discussion On Prospects of Development of Hi-Tech Civil Shipbuilding
May 20, 2010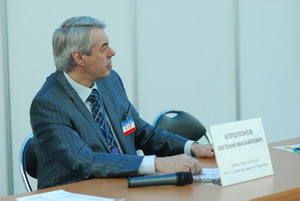 The panel discussion dedicated to prospects of development of hi-tech shipbuilding was opened by E.M. Appolonov, Deputy Director of FGUP Krylov Shipbuilding Research Institute. The institute engages in developing advanced corrosion preventing agent technologies, preparing and improving shelf development codes and standards. E.M. Appolonov told on the progress of development of the Stockman field and informed on the institute's commencing the development of an all-purpose nuclear-powered icebreaker.
General Director of Gazflot (an affiliate of Gazprom) Yu.V. Shamalov told on dynamic development of the company. It was noticed that Marine Industry of Russia Forum will create conditions for considering pressing issues regarding development of the shipbuilding in the Russian Federation and carrying out an in-depth analysis for approaches and principles of development and construction of civil ships. The speaker mentioned that the Russian shipbuilding industry faces need necessity to create a state-of-the-art, revolutionary civil fish fleet.
A project of the next generation nuclear-powered icebreaker for development of the Western and Eastern sectors of the shelf was presented to participants of the panel discussion by Iceberg Central Design Bureau. The vessel features all-year operation and the double draft increases its stability. This development was tested at Krylov Shipbuilding Research Institute. The project works are to be completed in the end of 2010.
Read also: