Interview with General Director of ZAO Scientific Producing Center "Shipping Electric Propulsion" (affiliate of ZAO REP Power Plant Holding) Andrey Vladimirovich Grigoriev, Candidate of Science (Engineering)
April 19, 2010
REP Holding is the single national enterprise ready to effect turn-key packaged deliveries of complicated ship electro-technical and electric-power systems including propulsion systems.
General Director of ZAO Scientific Producing Center "Shipping Electric Propulsion" (affiliate of ZAO REP Power Plant Holding) Andrey Vladimirovich Grigoriev, Candidate of Science (Engineering) tells about history of the Holding, last works and prospective innovations.
- Please, tell us when was REP Holding organized, what are its objectives and tasks.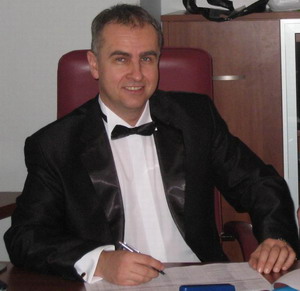 – In January, 2004, REP Holding, closely held corporation, was organized. The top targets of the company being set up were joining of industrial undertakings in energy sectors, adoption of advanced technologies ensuring increase of output quality, progress in management efficiency, line extension and marketing development both in Russia and abroad.
Joining of production facilities into a single structure made it possible for Holding to gain the lead in packaged supply for O&G sectors and atomic energy industry. Setting-up of the Holding gave an option of business profits increase as well as resulted in capitalization and investment appeal growth.
Today REP Holding enjoys sound confidence and esteem of its business partners and customers thanks to mix of high managerial competence, mature development strategy, and fruitful work of many hundreds of workers.
- What enterprises are included into the Holding? Please, specify their activities.
- The Holding comprises manufacturing plants and enterprises, engineering and design companies and institutes. The oldest and initial enterprise of the Holding is ZAO Nevsky Zavod.
In the first place, this plant is a designer and producer of power engineering products, such as gas and steam turbines, centrifugal and axial compressors, and pressurizers. The plant supplies its products to enterprises of the fuel and energy complex, metallurgy, machine-building, petrochemical, gas, atomic and oil industries.
Today Nevsky Zavod is an up-to-date manufacturing complex equipped with the latest manufacturing machinery from leading producers, which provide full manufacturing cycle from mechanical processing to assembly, comprehensive testing, erection and aftersales service.
- Is the Holding's history related to shipbuilding?
- In 1857 two Russian gold industry entrepreneurs P. F. Semyannikov and V. A. Poletika set up Nevsky Zavod as a shipbuilding plant. The plant was named Nevsky Foundry and Mechanical Plant of Semyannikov and Poletika. After loss of the Crimean War, the Russian Navy had to start constructing new metal screw steam ships. Despite the need to compete with Putilov and Manferson (Kirov and Baltic Plants), the plant signed up the Navy orders for construction of armor-plated and civil ships.
On the banks of Neva, a shipyard was constructed, and only a year later, in 1858, two small steamships Maria and Rabotnik were launched. In 1865, the first homemade armor-plated ship Kreml was launched. Since then, Nevsky Zavod had become the pioneer of the modern war shipbuilding of the tsarist Russia.
At different times, the armor-plated ships Admiral Spiridov and Admiral Chichagov were constructed here. Also, the armor-plated frigate Minin, second-rate cruiser Zhemchug, icebreakers Taymyr and Vaygatch were launched.
Construction of Holland class submarines opens a special page in the plant's history. In 1906, the solemn launch of the submarine Sterlyad took place.
After the revolution, the plant was not directly connected with construction of ships and vessels. Lately, return to origins has begun to show, and the shipbuilding is now becoming one of the main activities of the Holding.
- Please, tell about main activities of Scientific Producing Center "Shipping Electric Propulsion".
- ZAO Scientific Producing Center "Shipping Electric Propulsion" designs shipboard electrical equipment and electric systems, and jointly with the Holding's enterprises delivers it. Our company went into ZAO REP Holding in 2008. Our main activities are design and packaged supplies of ship electric propulsion, electric, engine electrical and equipment controlling systems.
- What is the primary virtue of your company and the Holding as a whole?
- The Holding our company being a part of which is the single national enterprise ready to effect turn-key packaged deliveries of complicated ship electro-technical and electric-power systems including propulsion systems.
REP Holding implements the whole equipment production process flow including design and engineering works, manufacturing of equipment, benchmark tests, participation in erection assistance and star-up activities as well as in basin and sea trials. We also carry out training of operating personnel and after-sales service.
REP Holding is in fact the single national enterprise which engineering and production capabilities ensure batch production of electric systems for ship electro-technical systems.
Currently, we are ready to carry out packaged supply of propulsion systems including such various purpose equipment as semiconductor frequency converters, propeller motors, supply transformers, main and auxiliary distribution boards, controlling systems for propulsion plant and ship facilities.
- Do you apply high-end technologies?
- At every technological stages of creation of complex high-end products, we apply integrated approach with the use of system-analysis method, which ensures carrying-out of scientific and engineering analysis of the project added by a patent study; math, computer-aided, and physical modeling; performance of computational and real experiments, and benchmark tests of supplied equipment.
- Tell us, please, about your latest shipbuilding projects or those being implemented currently.
- Now REP Holding participates in the final construction stage of jack-up drilling rig Arkticheskaya. The first Russian drilling rig of such class is constructed in Severodvinsk plant Zvezdochka. Currently the Holding directly participates in erection assistance and star-up activities at Arkticheskaya. At the same time REP Holding is a projector and supplier of switchboard and ACS equipment for Arkticheskaya. The drilling rig is to be delivered to the customer (OAO Gazprom) in 2010, following which the rig will become a part of OOO Gazflot.
In March we carried out training of specialists of Ship-Repair Center "Zvezdochka" in the area of ACS equipment running at Arkticheskaya; such system having been delivered to the shipbuilding plant by the Holding.
REP Holding is a participant of operations of the direction Electric Propulsion within the framework of the Federal Target Programme for the Development of the Civil Marine Equipment for the Period of 2009-2016. The programme was approved by the Regulation of the Government of the Russian Federation №103 dated 21/02/2008. The Programme is aimed to development of the national scientific and technological and design potential as well as creating conditions for production of competitive civil marine equipment.
Last year we completed work on the engineering design of electric generating plant of a passenger-and-freight ferry, project 00650. The customer of the project is FGUP Rosmorport, the ship projector is OAO Design Bureau Vympel (Nizhny Novgorod), and the power plant projector is ZAO NPC Shipping Electric Propulsion.
The vessel having no analogues in Russia is designated for provision of all-season shipping between ports Ust-Luga-Baltiysk-German ports. The cargoes to be shipped are railway freight cars, highway freighters, cars, and passengers. The vessel commissioning will make it possible to reduce cargo and passenger delivery time on the route between Saint-Petersburg, the Kaliningrad Region, and countries of the North-West Europe thus assuring integration of Russia into the general system of international ferry transportations.
- What are your actual innovative operations?
- In affiliation with NPO VINT we intend to start designing and producing thrust units with frequency-regulated drive over 1,000 kW. It is well-known that thrust units are used to improve low-speed handling qualities and dynamic positioning of nearly all modern vessels. However domestic producers organized batch production of thrust units with frequency-regulated drive of not more than 250 kW, which does not satisfy wants of the shipbuilding. REP Holding is ready to supply to the domestic shipbuilding market frequency-regulated drives 1000 kW and more for thrust units.
In affiliation with Zvezdochka we consider the possibility of coproduction of AZIPOD steerable propellers under the license of ABB. AZIPOD steerable propellers are to be used as a member of high-capacity propulsive units. Generally they are used at cruisers, ferries, icebreakers, ice class tankers and LNG carriers as well as at supply vessels.
It should be mentioned that Zvezdochka is a good partner of ABB Marine Company in production of screw propellers used with AZIPOD steerable propellers. In particular, these steerable propellers are installed at the world's largest ocean liners. In its turn, REP Holding is ready to master production of electrical facilities to be integrated with AZIPOD steerable propeller based propulsive units.
This year in affiliation with Zvezdochka and NPO VINT, we start new innovative work on design and production of pilot-plant mechanical steerable propeller with 3.5 MW electric drive. In the nearest future, such propulsive units are expected to be installed at new domestic vessels.
Among other innovative shipbuilding activities, it should be mentioned development of advanced electric propulsion systems based on permanent-field inductor and synchronous motors. Besides, we work on creating the first national reversible shaft-driven generator based on homemade semiconductor converters.
- What do you expect from participation in Marine Industry of Russia Forum? What are you objectives? Why did you decide to take part in the Forum?
- Leading design enterprises of the industry, shipbuilding plants and shipping companies are going to participate in the Forum. In this regard we plan to find new business partners, strengthen existing ties in the marine shipbuilding industry, forge common positions on development of the Russian shipbuilding industry. We will probably sign new contracts and agreements at the Forum.
- What could you wish to the participants of the Forum?
- To all participants of Marine Industry of Russia Forum, we wish professional advancement, business success, implementation of ambitions and prospective shipbuilding projects for the benefit of the Navy and commercial fleet of Russia.
Read also: