Forum gets support of the Association of River Fleet Industrial Enterprises RECHPROM
December 02, 2010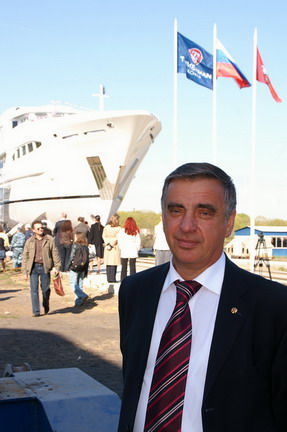 Alexander, when the Association of River Fleet Industrial Enterprises "RECHPROM" was established? How many companies hold membership of the Association?
The Association of River Fleet Industrial Enterprises was established in 1999, today it includes 50 companies and enterprises involved in construction, repairs and maintenance of inland water transport.
What is the mission of Association?
The Association pursues the following activities:
­ to encourage our members to use their production facilities more efficiently;
­ to carry out market surveys of industrial products and services and give recommendations to our members on how to be more competitive;
­ to help our members to deal with scientific and technology challenges, to maintain and develop their facilities;
­ to provide legal, information and promotion services;
­ to arrange professional training, advanced training and re-training courses for Association member staff.
It is widely discussed today that our river transport infrastructure is in poor state and needs development. Do you agree that restoration of domestic shipbuilding should begin with cancelling import duties on components which are not manufactured in Russia and have no domestic equivalents? What other urgent measures should be taken? "Rechprom" and the Association of Shipping Companies have jointly prepared a number of suggestions, which have been passed to the Russian Transportation Ministry and the Marine Board at the Russian Government. We suggest the following:
­ to give tax and customs relief to small and medium shipbuilding and ship repair enterprises, particularly by expanding the list of specific shipbuilding facilities and machinery (including ship assembly workshops, cranes with the lifting capacity above 100 tonnes and others) that are subject to concessions, by using 0% VAT rate instead of 10% rate stipulated in the draft law; by lowering taxes on ship engineering works; by granting exemption from water tax;
­ to reconsider the list of goods approved by the Russian Government that are imported duty-free for the purpose of scientific technology development, engineering, construction and repair of sea vessels and river ships, in order to ensure most effective use of ship machinery components and parts manufactured domestically;
­ favourable terms of river vessels lease from state leasing companies in order to minimize the vessel cost margin (to 6%), minimum lease term should be 10-12 years;
­ to design, using the state budget, layouts of standard highly efficient vessels for various rivers of Russia;
­ to design unified ship mechanisms and equipment, such as capstan windlasses, anchor windlasses, towing winches, hitch mechanisms, boilers, pumps, navigation, rescue, environmental and other types of equipment for mass production at Russian enterprises; to design high-tech navigation and communication equipment using GLONAS systems to ensure safe navigation; to design ship building equipment and tools such as metal cutting instruments, electrogas welding, paint and other types of equipment to be used for construction of river vessels;
­ to introduce tax relief on vessel construction at domestic facilities in the framework of the current legislation;
­ to introduce an interest make-up scheme for loans granted to shipping companies by Russian banks for construction of vessels at domestic facilities.
There is an opinion that in order to quickly and effectively modernize fleet, it is better to use foreign shipyards rather then to reconstruct domestic facilities. Will you agree to that?
No, definitely not. Development of such high-tech sectors as aircraft engineering and shipbuilding brings most industry sectors to a new level. We don't want to play a raw-export role, do we?
What part do state authorities take in reconstruction of domestic fleet?
As you know the Russian Government has started complex shipbuilding reforms. Since 2007 a number of measures have been taken. For example:
­ a united shipbuilding corporation has been formed from largest domestic civil and naval shipbuilding companies, design bureaus and research institutions;
­ we have a Concept of the Federal target programme for "Development of civil marine engineering in 2008-2015"
­ we have a draft federal law on "Support measures for Russian shipbuilding and navigation";
­ we have proposals to establish a state leasing company to supply river and fish vessels.
What organization or individual, you think, give most effective help to the domestic shipbuilding?
I think that positive dynamics was observed after Putin's initiatives. It was his suggestion to establish JSC "United Shipbuilding Corporation" aimed to unite all country's major shipbuilding enterprises and stimulate civil shipbuilding development. The Law on "Support measures for Russian shipbuilding and navigation" is being prepared. Reshuffles in related state bodies have been made. As a result, the industry can boast such distinguished figures as V. Olerskiy, Deputy Transport Minister of Russia, R. Trotsenko, head of USC, V. Popov, Chairman of the Russian Commission on national marine policy, who all do their best to restore Russian shipbuilding.
Do you believe that the Law on "Support measures for Russian shipbuilding and navigation" will lead to considerable changes?
For the moment we have relatively low rates of production development. We hope that the Law on "Support measures for Russian shipbuilding and navigation" will help to improve the situation. The bill has been passed to the Federal Government and will soon go to the State Duma.
I believe that the law will definitely have a positive impact on the current situation. At the same time our shipbuilders should do their best to meet today's international requirements.
What effect, in your opinion, will have on "Rechprom" members the fact that shipbuilding and ship repair sectors have been added to the list of seasonal industries?
It is going to have a positive effect. This is sensible. It will give enterprises and opportunity to postpone repayment of their loans.
At what stage is now the compiling of the Federal catalogue of products? What part does "Rechprom" take in that?
Work at the set of industrial catalogues of products used in construction and repair of ships and floating facilities has been started this year. At the first stage the list of products allowed in state contracts has to be compiled and approved. Further stages imply compiling catalogues with descriptions of the listed products and the creation of the Federal electronic catalogue. The end purpose of the project is the creation of the Federal catalogue of products used in shipbuilding. It will define the products and product manufacturers approved for state procurements and contracts. It means that the products not included in the Catalogue will not be allowed for use in state shipbuilding and ship repair contracts. Thus, such products will have a limited market. The approved Federal catalogue however will be subject to further modifications. To add their products to the approved Catalogue, the manufactures will have to prepare all appropriate documentation and receive practical approvals from OAO "Engineering and Shipbuilding Centre", Research Institute "LOT", FGUP "Krylov Research Institute" and the Federal Centre for Cataloguing. In this regard prospective manufactures must be interested to participate in compiling of the first edition of the Federal Catalogue, when it is rather simple to have their products listed.
How optimistic are you about the future of the Russian river fleet?
I'm always called an ever optimist. I do believe in the Russian fleet revival! I do believe that we'll be proud of our fleet and that it will set the pace for other nations like it used to do in the past.
Your Association is a partner of "Marine Industry of Russian" International Forum, which will gather the whole professional community in Moscow next May. What proposals are you going to bring to the Forum? What are your expectations?
Moscow Forum gives a unique opportunity to identify most acute industry problems, to make state authorities aware of them, suggest solutions and eventually work out a guideline document.
I suggest that the Forums business programme should cover the issues of tax and customs relief schemes for small and medium business, favourable lease and loan terms, amendments to the public procurement law, restriction of participation in bids for companies without own production facilities, I mean agents.
It is essential that the resolutions adopted by the Forum are executed, then we'll be moving further
Read also: