WHEN WILL RUSSIA BECOME NOTABLE FOR ITS ROADS? Interview of the heads of FGU Rostransmodernizatsiya
April 20, 2010
Dynamic implementation of public-private programmes makes it possible to build plans for modernization of the Russian transport infrastructure. Today the issue of competitive strength of Russian ports is of immediate interest.
Our journalist asked questions related to these topic to the heads of FGU Rostransmodernizatsiya – General Director Igor Yurievich Zyablitsky and Adviser General Director for private-public partnership Ph. D. in Economics Vitaly Vyacheslavovich Maksimov.
All transport infrastructure of the country is under the jurisdiction of the Ministry of Transportation of the Russian Federation. If we continue discussing elaboration of the Transport Services Export Development subprogramme being implemented by FGU Rostransmodernizatsiya, we would like to learn more on projects related to the marine theme, since the implementation of the Strategy of Development of the Marine Engineering of Russia developed on the state level reached its dynamic phase.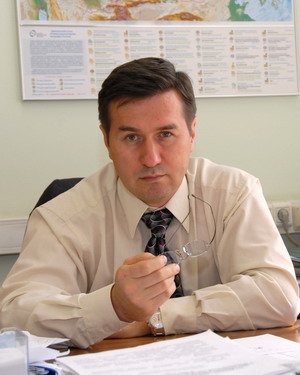 Igor Zyablitsky: Marine and river constituents of our comprehensive projects are very considerable. Among principal projects of, for example, the Azov-and-Black-Sea basin, I could mention development of the Novorossiysk traffic center, arrangement of the dry-cargo area of Taman Seaport, and development of multimodal transport-logistics node Rostov All-Purpose Port. The commission of all these ports will permit us to take a grand socioeconomic and political step in the region, increase competitive advantages of Russian ports, and open up the possibility to transship nomenclature of all Russian export freight. We perceive the role of the region and exert significant forces on effective implementation of these projects.
Social and economic maturity of the region and optimistic prognoses for freight traffic all lead to positive cash flow and raise of private investor appeal thus enabling to reckon on increasing volume of obtained extra-budgetary funds.
Within the framework of Marine Industry of Russia Forum, I intend to speak at Private-Public Partnership in Implementation of Sea and River Transportation Investment Projects. Port Special Economic Zones panel discussion to be held on May 21, 2010, when I will detail features of these and other projects of ours.
Arrangement of up-to-date high-tech sea and river ports is one the top-priority directions of your organization. So far as known, it comprises polar regions of Russia – from east to west. In view of relevance of the early enhancement of the principal sea ports, do you have some commission schedule for such transport nodes as Murmansk, Novorossiysk, Taman, Rostov, Vostochny-Nakhodka? As a matter of fact, each of them is a great complex project.
I. Z.: Our projects in progress comprise two main stages. The first is project documentation development and the second is detailed design and construction. Let's put aside the operational phase. Currently all projects are at the first stage. Project documentation is developed in accordance with state contracts and approved schedules. We know for sure aggregate terms of the second stage, however they are subject to further specification following the results of the first stage.
The most complicated aspect of our projects consists in synchronizing activities of the project parties' – state (Russian Federation, regions, municipalities) and private structures – which is to ensure simultaneous putting of erected objects into full operation. Our best efforts focused on it.
And surely budget effectiveness of state funds. We work upon structuring our investment projects so as to enhance their investment appeal to the private industry thanks to which the state will be able not only to predict greater efficiency funds efficiency but also raise more extra-budgetary resources.
Total cost of the projects implemented within the framework of Transport Services Export Development subprogramme exceeds RUR 450 bln. Which is altogether rather a big sum. What is its state-private capital ratio? What are your recommendations and opinion as experts in implementation of private-public partnership programmes?
I. Z.: As compared to the road-transport sector where this ratio comes to 80% of state funds against 20% of private, our complex investment projects for sea transport nodes are in a better position and the ratio comes to 50/50. The world's picture is as follows: high-quality project formulation, buildup of clear refund mechanism for private investors, and transparent tender procedures create conditions for practically full replacement of state budgetary funds with private capital. It is naturally that this cannot be done in no time, however we strive to it.
As for public-private partnership, I would like to note with satisfaction that private investors finance the projects in accordance with approved plans and despite the crisis are ahead of fund utilization schedules in many projects. This is the testimony to the fact that the private-public partnership institute has set and that private industry trusts implementation of joint projects to the state.
FGU Rostransmodernizatsiya accepted the responsibility for conceptual and practical implementation of transport infrastructure projects on the basis of the public-private partnership. What's new in this area? Is there any positive progress in implementation of this mode of business interaction?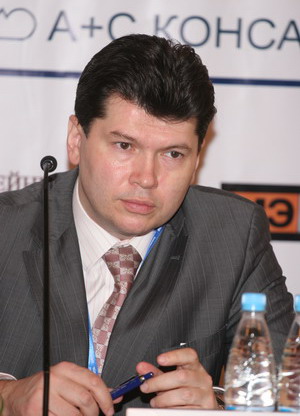 Vitaly Maksimov: As I see it, the main upside is that they do not confuse PPP (which is in Russian pronounced as GChP) with GKChP even in regions, and its relevancy and relevance are well understood. However mechanisms and procedures of the practical use often cause great difficulties. We know it firsthand, since within each project we work in close rapport with regional and local executive bodies while carrying out corresponding project elements. For this reason, FGU Rostransmodernizatsiya have been carrying on T&E and popularization activity in the area of PPP both in Moscow and regions. For example, in the nearest time joint seminar for practicalities of regional projects' implementation is to be held in Cheboksary together with PPP Center of Vnesheconombank.
Taken as a whole, we can state that the PPP mechanism which exists in our country is quite efficient and performs its task of uniting state and business under clear terms. So, today business which is deemed to be active have the opportunity of commencing joint projects. And the Government of the Russian Federation does not stand aside: it takes only to remember the much-debated fact of administration of federal state guarantees for infrastructure bonds issued for road-transport concessionary projects and having considerably simplified debt financing for concessionaries.
I would like also to mention our participation in the Expert Advisory Body for PPP law of the State Duma Committee on Economic Policy and Entrepreneurship for the purpose of further improvement of the legislative climate of Russia with reference of PPP. To this end the Advisory Body prepared the model law of a constituent territory of the Russian Federation, a number of amendments to the Federal Law On Concession Agreements, and individual legislative acts of the Russian Federation.
All this I believe will facilitate further mutually advantageous cooperation of the state and business aimed to social and economic prosperity of our country.
Why can private sector, potential investors be interested in cooperation with the state? What are its peculiarities and mechanisms?
V. M.: It is clear that PPP project interest of the business is commercial Under such conditions, private investor is ready to gain less annual revenue thus having greater profit element predictability for rather a long project duration. We don't mean that all commercial risks are put under the responsibility of the state, no way. A contrario, each party manages those risks it can manage the most effective way. And fair and proper risk distribution is beneficial for both parties, since it reduces the project costs while improving its efficiency. It is hard to imagine that a private investor can be better at managing sovereign or state traiff-making risks. That is why, a private company can start managing such risks pursuant to concluded agreement only after paying corresponding exposure fee being charged to project costs.
The question of optimum risk distribution is rather complicated and in addition to the practical aspect it comprises scientific and methodological component. In this regard, FGU Rostransmodernizatsiya intends to prepare a number of research scientific works dedicated to this problem.
How can Marine Industry of Russia International Forum can be helpful in implementation of projects related to sea multimodal transport nodes?
I. Z.: We have always been trying to make our activity as transparent as it is possible so as our approaches to preparation and holding of investment tenders would really be efficient and predictable. That is why here, at MIR Forum, we plan to tell about our last projects and have questions, comments and proposals. Besides, FGU Rostransmodernizatsiya welcomes new ideas of Forum participants, especially those regarding innovative development of infrastructure projects. The best ideas are checked in practice.
Within the frameworks of the Business Programme, we also expect to meet active private investors interest to our projects. We are ready to discuss in detail projects' structure, options and terms of participation as well as to answer all questions.
Within the framework of the MIR Business Programme, your organization is going to hold a panel discussion of topics of prime importance for the shipbuilding industry. Those topics are establishing effective mechanisms of public-business interaction, attracting private investments to federal and regional port projects, support in development of interregional and international business contacts, cooperation of enterprises of the shipbuilding complex under present-day complicated economic environment, and development of special economic port zones. What will be the format of the event? What companies are you waiting at these questions' discussion?
I. Z.: We plan to hold this panel discussion as a free expert discussion and not in a "speaker/audience" form. We will try to evade such rudiment as a tribune and talk mainly as equals holding open discussion of participants' painful problems. It is planned to listen to brief 5-7 minutes experts' speeches on separate problems continued with discussion of raised question and search for effective ways of solution. The results of the panel discussion would be used in our work. FGU Rostransmodernizatsiya is committed to principles of openness of daily activity and involves the expert community as an advisory body. At the same time, the form of business events gives us the additional possibility to elicit challenging response (including educational one) which is very important for us today.
The list of invited companies is very long. These are federal and regional public authorities, municipal units, banks, insurance and finance companies, design institutes, equipment producers and service providers, and so on. This is to ensure cross-light issues under discussion and develop complex understanding of existing PPP mechanism, its national features and growth prospects.
We invite everybody to take an active part in Private-Public Partnership in Implementation of Sea and River Transportation Investment Projects. Port Special Economic zones panel discussion to be held on May 21, 2010, thus making the future of the country and its transport infrastructure.
Read also: