Interview with CEO of MARITIME Bank Igor DERGUNOV
April 26, 2010
MARINE BANK have been working on the banking market for 21 years and it is one of the oldest financial institutes of Russia.
CEO of Marine Bank Igor Fedorovich Dergunov tells about current state of the Russian fleet, need for shipyard upgrading, problems of Russian financial institutes' support to shipping companies.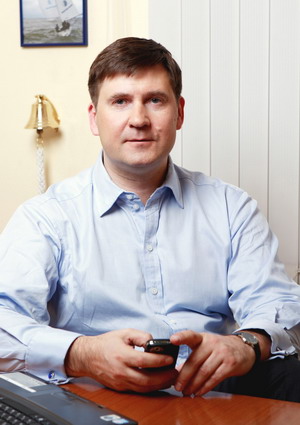 - Igor Fedorovich, how do you evaluate the strategy of increasing of the Russian fleet within the shortest possible time?
- There is a unique opportunity to do so. The fleet prices fell due to cargo turnover slump caused by the global economic crisis. Too many vessels are left unbought: although their construction have already been completed, they stand at yards all over the world. Add to it the fact that many yards stand idle.
When speaking of purchasing vessels, we should bear in mind their designation. The issue of purchasing civil ships is directly connected to availability of freight base.
Existence of the modern fleet in Russia and government support to sea carriers are two sides of the same coin. The domestic freight base is the first source ensuring freight.
The second source is transit potential of Russia. It is important for all types of transport of which marine element is rather a significant part. The nation's economy would not suffer, if transit goods delivered by water somewhere from the Asia-Pacific Region to ports of Saint-Petersburg or Murmansk are carried by Russian shipping companies to European countries.
The third source of the freight base is our future. I mean development of continental shelf, and in first place the Arctic one. It is not clear whether the Northern Sea Route would be ice-free. Specially, in view of broken scandal about the most opposite opinions regarding global warming. Anyway, we will have to produce hydrocarbons in our rich Arctic sector. So, we will have to carry them. And in this regard there is no other option except for tanker transportations.
So, summarizing I can tell that using of the "price window" for finished vessels is the reasoned option to select for the benefit of development of the Russian fleet. At the same time we should harmonize outlooks of strengthening of freight base, development of transit and deployment of Arctic shelf with quantitative and type composition of needed fleet. At last, we should purchase vessels without delay. The "price window" is going to close soon.
On its part, MARINE Bank is ready to contribute to this process as a financial institute.
- Do you think that want for mixed (river-sea-going) vessels will be satisfied?
- If the situation in the economy in general and in the marine industry in particular does not change, the answer is no.
We cannot build a new fleet ourselves without a sound upgrading Russian yards. And the upgrading requires immense finance and time. None the less, it is to be realized. This issue is of utmost importance for our country. We should clearly understand that plans regarding construction of 100,000 and even 300,000 DWT vessels at Russian yards address quite far future. Today at the Russian territory, at our shipyards only modern small and medium vessels can be built. And MARINE Bank is ready to finance construction of such vessels. Even more, we have clients which are ready to buy these vessels. Further still, MARINE Bank not only engaged but is currently engaging in granting such credits. Unfortunately, these credits are related only to individual vessels, not tens of them. However, since we have gained a successful experience of crediting construction of several vessels, we can scale this activity.
- Very often it is foreign banks which receive applications for financing of heavy-tonnage fleet renewal. Why Russian financial structures usually do not support shipping companies in this regard?
- In order to credit construction or purchase of sea-going vessels, much more money is needed that Russian banks can offer. I mean numbers of other position. First of all, these are to be long-term money. Then, their value is to be considerably lower. Such financing can be offered perhaps but only by Vnesheconombank. That is why MARINE Bank being a niche bank today works with an affiliate of Vnesheconombank. That is Russian Bank for Development. This is rather a reasonable scheme of raising funds for the Russian real sector and it is to be expanded. Unfortunately, this cannot be done at a single step. However, political will can make this scheme effective both for crediting of the real economy and strengthening of domestic banks.
By the way, foreign banks have already started searching for field niche partners in Russia. And MARINE Bank already possesses knowledge of working with foreign banks – we granted syndicated loans for Russian clients.
That is a sane option. At the same time the Russian government must say: "We welcome Russian shipping companies and are ready to grant them certain preferences. We also encourage Russian banks in this regard."
- What criteria, in your opinion, are a priority when the shipping companies select a bank?
- Unfortunately, many participants of the marine industry do not pay enough attention to this issue. Perhaps, this is caused by inertia of the Soviet period when all terms and conditions were identical. This is not an option today. A band and its client must understand each other, know each other, and trust each other. Elsewise, both parties suffer as if they were unhappy spouses.
We understand participants of the marine industry and their special needs better than any other bank. We offer financial products missing at other banks. For example, cash for master. These are cash to be received by shipmasters at MARINE Bank's offices. In a non-specialized bank this money cannot be obtained: too high commission fees are used as a remedy against encashment. Besides, many banks have difficulties distinguishing a shipmaster from non-shipmaster. We can do it.
We don't need to be explained what dredging operations are or classify a vessel. This means that we can make a decision regarding crediting much faster. Our bank will not pretend it needs a month or two or even three to adopt a decision. In case all necessary documents submitted, the decision will usually be adopted within five working days. If the case is complicated – within ten. Well, in certain cases we need up to twenty days. We always understand what enterprise we are dealing with. Sometimes some company does not meet certain formal criteria to be granted crediting. But MARINE Bank always knows who is who and who needs help.
Besides, now we are cutting crediting rates both of extended credits and new ones.
That is we understand our clients involved in the marine industry, which is the main thing if you want to establish firm partnership relations between a bank and a client.
Read also: