Interview with Director of Tree Tronix Technology Aleksander Ankhimov
June 17, 2010
Modern effective manufacture is inseparable from automation of each of the stages – from design to technical support. It is true for shipbuilding, too. However taking into account its specific character, solutions offered for other branches are not always suitable for enterprises engaged in ship construction. That is why development of niche tailored information systems is necessary. One of the leading developers of such systems is Tree Tronix Technology, Russia. We bring to your notice an interview with its director Aleksander Ankhimov.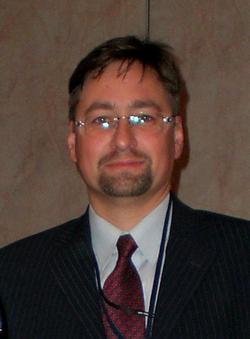 - Tell us about your company's history, please. When was it organized? What does it occupy with? Who are its employees?
- Our company was organized in 2002 by Russian shipbuilders and IT specialist. Already in the Soviet times they gained unique experience of shipbuilding enterprises' automation by implementing projects undelaying today's Tree Tronix Technology products. For example, versions of our complex information system Tronix and its components have been in use in Nevskoe Design and Engineering Bureau, Central Marine Design Bureau Almaz, Baliysky Zavod and Severnaya Verf since 80's and 90's.
Today, the list of Tree Tronix Technology customers comprises Marine Plant Almaz, Yaroslavl and Khabarovsk Shipbuilding plants.
Our company employs graduates from the best Saint-Petersburg institutes: Baltiysky State Technical University (Voenmekh), State Marine Technical University of Saint-Petersburg (Korabelka), LETI, ITMO and others.
- Your activity is carried out in various areas. What are characteristics of automation in shipbuilding?
- In addition to shipbuilding, we work in medicine and have practice in other areas.
Shipbuilding features long-lasting underfunding which significantly decelerates mass IT introduction. Lack of operating assets creates problems of employment of competent personnel, renew of production facilities, implementation of innovations, and reorganization of existing manufacture and business processes. The general crisis of the industry negatively influences any pioneering projects including those related with automation.
Another feature of the branch is great amount of design, engineering and technological information (draws, records, schemes, specifications, road maps, schedules, service documentation and so on) to be classified and unified. Today we often find out that a design bureau uses one information system and a plant, another. And this is the best case. Usually, there is no single system at a plant – only several isolated programs serving needs of work units. Very often even within one enterprise shops and departments exchange paper documents, not electronic.
Information systems of a design bureau and a plant are to "understand" each other and be able to transfer and receive necessary information omitting hard copies. Finally, specific character of the branch manifests itself as impossibility to create an all-purpose software which need not be adapted to meet demands of any shipbuilding enterprise. And even after implementation of a single information system at a given plant, the issue of automation cannot be solved once and for all. The enterprises exists, changes, develops, works at various projects, so the information system should be permanently upgraded. On the other side, it is impossible to establish rigid production control algorithms. In other words, an information system is to be flexible in some degree. It is not easy to achieve it. For example, estimated labor coefficient for CIS Tronix is 100 person-year. If we count in exemplary costs, only its developers' remuneration (with one employee's salary taken as RUR 50,000) will amount to USD 2.7.
- In other words, automation of shipbuilding is linked with lots of difficulties. Does this direction have any prospects?
- Sure, there are some prospects. Otherwise, we would not occupy ourselves with this activity. And the situation in the branch is rough, but I can't call it hopeless. We will improve it all together.
- Tell us about your products for shipbuilders (Tronix, KARE) and its case history.
- Tronix is the only integrated application suite for design, construction and operation support of ships and vessels in the Russian shipbuilding. We can represent its structure as a scheme:
Modules of complex integrated information system Tronix V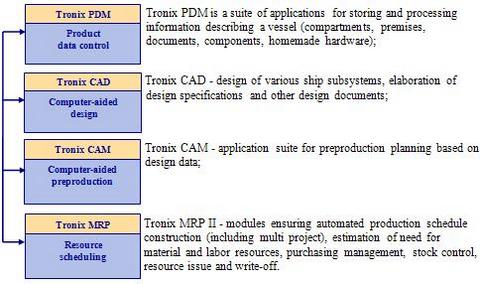 Complex information system Tronix is able to interact with financial and accounting systems: 1C, BEST, BAAN, Compass, BOSS; planning and project management systems Primavera, MS Project, Spider Project; CAD and PDM AutoCAD, Tribon, ShipConstructor, SolidWorks, ProEngineer, Unigraphics, Compass 3D, Foran, PDM StepSuite.
We have designed and implemented interfaces with original information systems of plants and design bureaus: Sevmash, GoaShipyard, Design Bureau Severnoe, Central Marine Design Bureau Almaz, Iceberg, Vympel, NPO Avrora, DND (India), SSTC.
Today Tronix is has no analogues both with respect to profundity and exhaustive coverage of construction and operation of vessels, pace of finishing and introduction, and price/quality ratio.
As for KARE (automated electric work system), it features focus on advanced hardware and software: PC, network architecture, database management systems (DBMS), client/server systems. The system is based on several authoring. First of all, it is optimum cable laying method based on various requirements and restrictions. Secondly, it is embedding specification language for wiring drafting comprising system data base transmission media and function of interactive debugging. At last, the system possesses an all-purpose documentator for drawing output documents of any degree of complexity.
- Does your company develop new products for shipbuilding?
- Currently we are focusing on new revisions of our basic software products and various add-ons.
- Please, share your impressions of Marine Industry of Russia International Forum.
- Marine Industry of Russia – 2010 is the first international shipbuilding forum held in Moscow. Of course, there were some messes-up. On the other side, interesting arrangements, panel discussions, presentations took place which made it possible to discuss topical problems, exchange opinions, and establish business relations.
- Do you think such events are necessary for the branch? Do you plan to participate in Marine Industry of Russia in the coming year?
- Absolutely, the branch needs such events. And Tree Tronix Technology will surely take part in Marine Industry of Russia – 2011.
Read also: