Interview with General Director of NTTs Elektroresurs Medvetsky Valery Mikhailovich
May 05, 2010
We continue publishing interviews with participants of Marine Industry of Russia Forum. Now we are talking with General Director of Technical Research Center Elektroresurs Medvetsky Valery Mikhailovich.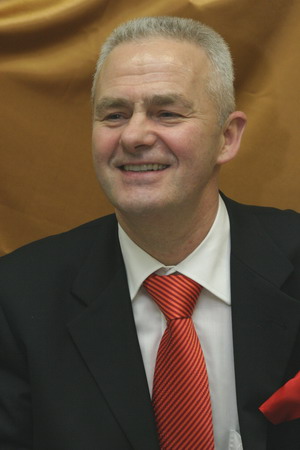 – Tell us about your company, please. What are its activities and tasks?
- NTTs Elektroresurs is engaged in development of integrated technology solutions based on innovative fiber laser emitters. Our specialists were the first ever having created a comprehensive laser head with adjusted focal distance. It can be used for cutting, welding, perforating, hardening and surface modification. Generally, these are complex multilevel tasks which comprise many operations from developing laser software to fine-tuning technologies. In a brief interview, it's impossible to cover all the tasks this technology is to solve. I would only mention the opportunity of working with materials of dissimilar thickness and high precision of operations which are very important in shipbuilding.
- What features differ your products from those offered by Russian and foreign competitors?
- Our laser head features automatic focal distance adjustment and a set of replacement magnet-locked nozzles which ensures carrying out a wide range of operations without unnecessary time and financial expenditures. The possibility of using a head both at portal systems and manipulators of industry robots is an innovation. This development won several gold and silver medals at European exhibitions.
- What do you offer for the shipbuilding?
- Laser system application improves efficiency of shipbuilding operations due to high rate of productivity and precision, minimum structural deformations, opportunity to use new flat and curved sandwich structures. In practical work this makes it possible to use laser for markup, cutting and marking blank parts and later for welding sandwich structures. The examples of spheres of application these systems are production of sandwich panels or tube/tube-plate structures made of stainless steel, titanium alloys and combinations of dissimilar materials.
Another vital feature of laser systems is surfacing which makes it possible to reconstruct screw propellers and other trimming parts without extra expenditure of materials.
- Do you experience any state support regarding innovative development or do you find it insufficient?
- This is a question of utmost importance. Currently there is a critical need in state support for laser innovations. This is to ensure fine tuning of technologies to the level of finished systems. In other words to the level of marketable goods. All over the world laser technologies are acknowledged to be not only top-priority goals of development of the mechanical engineering and shipbuilding but are also in common use. At the same time our government does not take obvious interest in these programmes and solutions.
Besides, we should mention that namely domestic solutions challenge support, since the dependence on foreign suppliers in so strategic industry as shipbuilding is inadmissible.
- What other problems are there in your industry?
- Low level awareness of enterprises regarding capabilities of new technologies and closedness of their leading experts towards use of innovative solutions. There again, lack of state control and support to technology development play not a small part here. As a result we often try to solve problems by purchasing foreign technologies paying 3 or 4 times as much for outdated solutions.
- Do you lack skilled labor?
- Yes, and this shortage is very strong. There is a skilled labor shortage in application, practical areas – draftsmen, process managers for various operations, particularly, welding and surfacing.
- What would you like the participation in Marine Industry of Russia Forum to give you? Why did you decide to take part in it?
- The forum is a possibility of fruitful communication with concerned audience, specialists of the industry. It is also a possibility to tell about laser technology capabilities and demonstrate them. Unfortunately the form of the event will not allow us to demonstrate laser application in practice (at a multioperation machine), but all the processes will be represented in a video at our stand.
- What would you like to wish Forum participants?
- I wish them luck and success in their undertakings. And I wish these undertakings to contribute to not only prosperity of their companies but growth in the industry as a whole. I also wish all over the country these undertakings to contribute to strengthen its reputation on the world market for innovative technologies and shipbuilding.
Read also: