Director General of OAO "Murmansk Shipping Company" Alexander Mikhailovich Medvedev
April 15, 2010
Marine Industry of Russia Forum will bring together leading marine transport enterprises. Among them, there is OAO "Murmansk Shipping Company" being one of the first-rate transportation carrier operating under the Russian flag.
The company's life, future plans and expectations concerning the Forum participation were told us about by Director General of OAO "MSCO" Alexander Medvedev.
- Alexander Mikhailovich, tell us, please, about your company.
- The Murmansk Shipping Company was founded in 1939 as an enterprise specializing in Arctic transportations.
Today our stock company is a holding of three shipping companies well-known both in Russia and abroad. These are OAO "Murmansk Shipping Company", OAO "Northern Shipping Company" and OAO "Northern River Shipping Lines". They are vertically integrated companies that is they are interrelated. So, there is a possibility to embrace the whole scope of transportation services in demand.
Today the holding can put at disposal of a freighter tugs, barges, heavy-, medium- and low-tonnage vessels as well as provide servicing from the estuary to the World Ocean. The synergism and individual approach to satisfaction of needs of the freighter make "Murmansk Shipping Company" quite a unique enterprise.
- Could you describe the company fleet, please?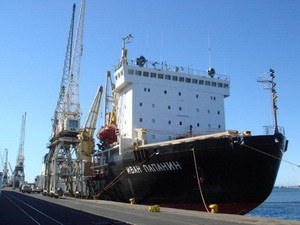 – Today, OAO "MSCO" owns 15 new and retrofitted bulkers with DWT of approximately 23 thousand tons each. The sufficient amount of fungible vessels has significantly cemented our positions on the market, so today we can sustainably operate on the principal directions being the Baltic coal transportation as well as coal and apatite export from the Russian North. When selecting OAO "MSCO" as a partner, freighters focus on the fact that our vessels are new, meet all existing international requirements and are more cost-effective as compared to old ones.
- Could you tell us about latest advances of the company?
- For the last four years, the company purchased five bulkers of LU ice classes: "Grumant" (2006), "Pomorie" (2007), "Zapolyarie" (2008), "Novaya Zemlya" (2009), and "Severnaya Zemlya" (2009). We have completed retrofitting of the tanker "Nadezhda". Three dry-cargo carriers ("Mikhail Strekalovsky", "Pavel Vavilov", "Kapitan Sviridov") have been elongated which helped to increase their profitability.
Despite the economic crisis which began in 2008, we completed the programme for the fleet upgrade and retrofitting of existing vessels and regard this decision to be sound. The marine transportation market is to recover rather fast as soon as the crisis is over, and when the world economy is stable and growing, new vessels are be in demand.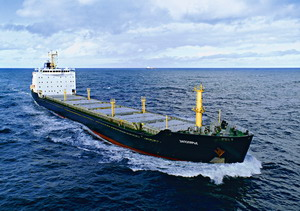 - You are deeply involved in ship reconstruction. Tell us about it, please.
- During the last few years we retrofitted seven vessel such as "Dmitry Pozharsky" and tree vessels such as "Mikhail Strekalovsky" (the last, motorship "Kapitan Sviridov", was retrofitted early 2009).
For implementation of the retrofitting project of the tanker "Nadezhda", the corporate author of the Engineering Policy Department became a laureate of the regional competition "The Engineer of the Year". "Nadezhda" is one of the largest tankers going under the Russian flag. We bought it in Spain in August, 2007. The retrofitting became a new step in the area of retrofitting vessels with DWT of 150 thousand tons. The tanker has double bottom and double boards and due to works executed it meets all international requirements.
Our specialists developed a unique project of retrofitting cargo motorship "Ivan Papanin" into a drilling ship.
- What impact had the economic crisis on the activity of the shipping company?
- We were awaiting for difficulties both on the Russian and international financial markets and prepared to meet all the challenges of 2009. Fortunately, joint efforts helped us to escape strong perturbations.
Prearranged measures helped "MSCO" to go through the period without serious complications. And the overall result of the activity of the whole company was positive.
- As regards perspective activities, are there any new opportunities or, on the contrary, do you have to scale down work?
We actively worked on opening new areas of activities without direct relation with shipping.
Our holding participates in some of the tenders of Stockman Development AG which develops a gas condensate field. Inter alia, Stockman Development AG is in want of an onshore complex service base with a petroleum depot to supply fuel to ships located at a good sortie berth. We have already completed to develop a project of such petroleum depot near the twentieth berth. Today the project is under the state expertise and we believe that it is to be assessed as complying all building regulations.
Having begun the construction of the petroleum depot some years ago, "MSCO" foresaw results of demands of the region which gives us a competitive edge as compared to other participants of the tender.
"MSCO" actively worked on provision of harbor transshipment of oil cargoes. We implemented a contract with a Russian company "RITEK", subsidiary of Lukoil. We transshipped about 400 thousand tons of oil at our harbor transshipment complex. In 2008-2009 plans, there were no provisions concerning this activity, so we gained extra income.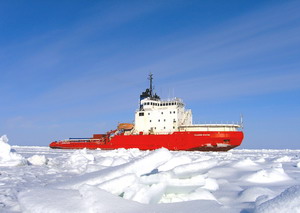 Another project is provision of exploring of the National Institute of India on the Antarctic Continent. Two vessels of ours worked there: icebreaker "Vladimir Ignatyuk" and motorboat "Ivan Papanin".
We also participated in some of the works on exploration of the Arctic shelf and offer our services to Russian institutes which intend to conduct geophysical studies of the Mendeleev-Alpha and Lomonosov Ridge.
Today we know how to meet the crisis. In my opinion, we are to thank challenges, since they ensure our development. We face the future securely and confidently and make plans on further development of our fleet.
- What is expected from participation in Marine Industry of Russia Forum? What are you objectives? Why did you decide to take part in the Forum?
- The Forum is an important event with participation of leading transport companies of the country, so the Murmansk Shipping Company could not stand aside. We expect the event will bring us arrangements, business contacts and exchange of experience.
- What could you wish participants of Marine Industry of Russia Forum?
- I wish participants of the Forum fruitful and active work, effective search for new partners and success in achievement of their targets.
Read also: