Development Deputy General Director of ZAO NPF Mikran Tatiana Nikolaevna Popova
April 06, 2010
Within the frameworks of Marine Industry of Russia Forum, the meeting of leading specialists in the area of shipbuilding and Freight Traffic is to take place. ZAO NPF Mikran, Tomsk, is to participate in the meeting, too.
Tatiana Popova, Cand. Sc. Development Deputy General Director of ZAO NPF Mikran told about objectives of participating in the Forum, the company and one of its recent developments – next generation radar system.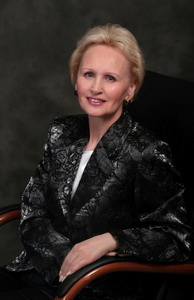 - Tatiana Nikolaevna, tell us about activities of Mikran, please.
- Mikran was organized in 1991 by a group of scientists and specialists of the well-known in Russia Tomsk State University of Control Systems and Radioelectronics. Today NPF Mikran is an innovative company implementing sophisticated high-tech projects.
The key focus areas in VHF radio-electronics are development and production of:
digital

RRL

equipment with bandwidth from 150 MHz to 90 GHz;
wireless broadband Internet-access equipment,

VHF

instrumentation and control systems up to 60 GHz and radio-frequency section accessories;
electronic component base (

VHF

ECB

) up to 100 GHz;
units, modules and interconnected

VHF

radio-electronic devices for telecommunication, radiolocation, and instrument engineering.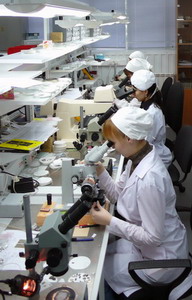 - Why did you decide to participate in Marine Industry of Russia Forum?
- So far works in radiolocation area were focused on creating transmit-receive modules for active phased antenna arrays (APAA).
Today Mikran is ready to demonstrate at the Forum results of its laborious work in ship navigation, that is a prototype of next generation near-range navigation radar system – NRS Reka. We produced a pilot bunch of Reka and make preparations for operation testing in the Ob-Irtysh basin in the next navigation.
- As you said, the radiolocation station Reka is a next generation device. Tell us more about it, please. What's new in it?
- Currently river and civil marine radar systems (RS) are made on the basis of magnetron-based radar signal generators. With it, range resolutions does not satisfy all requirements of water transport navigators. Thus, for example, enhanced range resolution is necessary for passing narrow waters, harborage maneuvering in presence of great number of vessels, and mooring heavy-tonnage ships. Besides, magnetron-based radar stations differ in short maintenance-free period and substantial radiation level.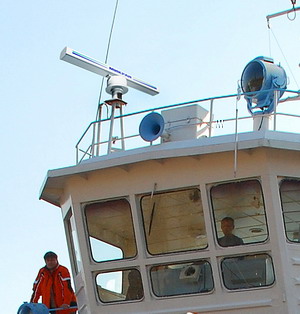 The digital system Reka is a broadband radar based on solid transmit-receive device. The stations features high distance resolution of 1.5 m, low peak emission power level, and long maintenance-free period of up to 20,000 hours. These operating characteristics of Reka ensure furthering navigation safety and lowering maintenance and repair costs regarding near-range navigation radar system for the whole operation life by 40-50%. Furthermore, with low emission power, RS interferes less with other onboard and port radio-systems less and is less harmful to crew's health.
- What are the fields of use of your high-precision radar system in the marine industry?
- The digital near-range transmit-receive RS Reka can complement existing long-range marine civil RS.
And there are tasks regarding security of important off-shore facilities and protected area perimeter requiring use of high-precision security systems. We continue developing radar sensors with resolving capacity of 0.5 m which can be used not only in ship navigation but for detection systems, too. High-resolution broadband RS (HRBRS) are step-ahead solution in detection system development.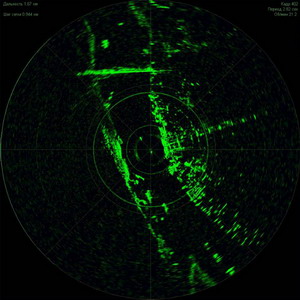 Modern HRBRS ensure high-quality radar image with subsequent intelligent processing. Such devices are based on a digital trans-receive module with full digital signal processing. So, the devices are ease to interconnect and to be integrated into automatic detection and identification systems.
The key advantages of HRBRS are high spatial resolution, large inspection area, low emission, and intellectual target detection and assessment systems. These principles are to underlie forthcoming works at our enterprise regarding creation of security system RSs.
- What is expected from participation in Marine Industry of Russia Forum?
- We expect our next generation RS is to find its place at modern domestic sea- and river-going ships.
- What would you like to wish the participants of the Forum?
- I would like to wish all the participants of the Forum fruitful work and new partners!