«We are ready for new challenges!» Interview with ATA Gears technical expert Pekka Hoikkala
May 06, 2010
Success at the world market can be achieved by various means. Some companies select "carpet bombing" addressing all possible areas – from electric kettles to TPP turbines. Others strive to attain perfection in one selected area.
Finnish ATA Gears participating Marine Industry of Russia Forum selected the second way – for 70 years it has been producing spiral bevel pinions for the shipbuilding, automobile construction and heavy machine building industries. Today its products are deemed to be the best in the world.
Technical expert Pekka Hoikkala told us about company's activity in details.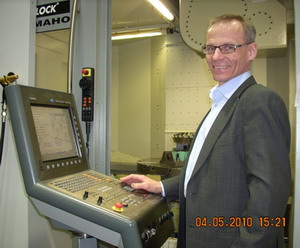 - Tell us about your company's history, please.
- ATA company was founded in 1937 in the city of Tampere (Finland). Earlier it manufactured small hydro-electric plants and gear units, and today it turned on production of spiral bevel pinions only. The first special-purpose for processing spiral bevel pinions was constructed by the company in 1940. Since then ATA bevel pinions became well-known. Today the company has a large network of overseas offices and 70% of its output is exported. Net earnings in 2009 amounted EUR 48 mln.
- What share of ATA output is used by the shipbuilding?
- Half of spiral bevel pinions is used at ships and vessels. ATA bevel pinions are used by every large producers of ship propulsive systems.
- What are your features of bevel pinion production?
- Production investments made it possible to replace outdated equipment with state-of-the-art NC machines and use 3D modeling technology to the full extent. Integrated measurement devices enhance quality control and accuracy of manufacturing. We can also optimize the treatment of each bevel pinion.
After hardening, thorough check-out of a bevel pinion is carried out and measurement results are used in final finishing.
For the last five years ATA started to use the latest techniques while adapting them to customers' needs.
Today, gear-cutting machines used in pinion fabrication are replaced with five-axis NC machining units. For pinion producers this means independence from machine-building enterprises and more freedom in selection of pinion geometry. However there are still rules to be followed in fabricating pinions. The machine-building industry revolution is about only one aspect of fabrication and purchase of NC machine does not enables fabrication of quality pinions on its own.
- What is ATA's recipe for success?
- Narrow specialization and thorough knowledge of the entire process from professional design and high-quality production to full-scale customer support contribute to our success. Focusing on one product group, ATA is capable of efficient channeling resources to creation of production meeting the most severe requirements to gears.
To lead the industry, our company developed own pinion design and production software considering customers' wishes and to the maximum extent facilitating transition from base parameters to individual characteristics of the highest complexity. ATA takes into account all parameters of material being processes thus improving performance without resizing pinion set. ATA not only complies with current standards but also draws out new rules, calculation methods and control recommendation and participates in work of the International Standard Committee for bevel pinions and collaborates with classification associations.
Read also: