Director of Project "Shipbuilding" of the United Industrial Corporation Andrey Fomichev
April 09, 2010
The international Forum "Marine Industry of Russia" is to take place in Moscow from 19 till 21 May, 2010. Leading shipbuilding enterprises of Russia are going to contribute to the work of the Forum. The United Industrial Corporation (OPK) is one of them.
Director of OPK Project "Shipbuilding" and General Director of Severnaya Verf and Baltiysky Zavod Andrey Fomichev is telling about prospects and new trends of the shipbuilding in Russia as well as about development of the icebreaker fleet.
- Andrey Borisovich, tell us in short, please, about enterprises which will participate in the Forum.
- Shipbuilding assets of OPK comprise two largest shipbuilding enterprises of Saint-Petersburg: OAO Severnaya Verf Shipbuilding Plant and OAO Baltiysky Zavod with more than one hundred-year experience of constructing ships and vessels of various classes and purposes. OAO Iceberg Central Design Bureau, author of tens of projects of icebreaker fleet vessels including nuclear-powered icebreakers and floating nuclear power stations for northern latitudes, implements design works.
- Today the world discusses outlooks of developing shelf hydrocarbon deposits. This requires comprehensive infrastructure including transport one. What are capabilities and plans of the United Industrial Corporation in this regard?
- Since 2004, shipbuilding plants of OPK have actively engaged in adopting the method of supply ships construction for PSV-type offshore drilling plates, with DWT from 3,000 tons. Severnaya Verf is still collaborating with Norway customers in delivery of saturated supply ship hulls and turn-key ships.
Baltiyski Zavod, in its turn, is an undoubtful leader in constructing icebreakers – no shipyard in the whole world has constructed more. The icebreaker 50 Let Pobedy (50th Anniversary of the Victory), the last constructed here, is the largest nuclear-powered icebreaker. Currently a lead order for a project 20870 offshore power generating unit for the first-ever offshore nuclear heat and power plant to be operated in areas of the High North and Far East is being constructed at Baltiyski Zavod. The general projector of the offshore power generating unit is OAO Iceberg Central Design Bureau.
Besides, in cooperation with Krylov Shipbuilding Research Institute and Aker Arctic Design Bureau (Finland), OPK worked out in detail two projects of multi-purpose ice-class supply vessels for servicing Arkutun Dagi (Sakhalin Island) developed by Exxon Neftegaz Company. These projects are offered to be delivered to OAO Sovkomflot within the framework of the current Agreement on Cooperation with OPK.
- Do you work much with foreign partners?
- Yes, sufficiently. E.g., we collaborate with leading foreign companies (particularly, GE Oil & Gas, Norway) in preparation of collaborative deep-sea equipment production for shelf hydrocarbon production: sea floor templates and manifolds. This work is done within the frameworks of the tender on Stockman field facilities construction organized by Stockman Development AG.
We negotiate with Saipem for providing OPK enterprises opportunities to produce deckhouse modules for the floating production unit (FPU) also designated to be operated at the Stockman field.
- Do these plans provide for upgrading existing manufacturing facilities?
- For the period until 2015, OPK is planning profound reconstruction and upgrading of existing manufacturing facilities of Severnaya Verf Shipbuilding Plant without suspending production. As a result, on the plant territory, there will emerge an up-to-date shipbuilding complex suitable for construction of heavy-tonnage vessels including LNG-carriers. The expected minimum annual output is 500 thousand tons of DWT. The project of a new shipbuilding complex is being developed by leading design institutes. At the same time within the framework of the integrated development of the Stockman gas condensate deposit, we actively elaborate issues of preparation for production of LNG-carriers with capacity of 155-216 thousand cubic meters of LNG on the basis of OPK plants.
- In April, OPK shipyards launched the first project 20380 serial corvette Soobrazitelny. Why is it unique?
- First of all, project 20380 comprising Soobrazitelny and the lead ship Stereguschy which is already on duty is not a "remake" of old soviet drawings. This project was elaborated practically from scratch by Almaz Central Marine Design Bureau already in the new Russia. In the course of designing the vessel, 21 patents for invention were taken out and 14 PC software registration certificates were issued.
In the construction of the corvette, Stealth technology is used, due to which it is invisible for detecting devices of a potential aggressor. High level control system and firing automation ensures reduction of the number of crew. Finally, these corvettes are equipped with the state-of-the-art armament, for the most part of Russian but not of Soviet development. This armament including a ship-based helicopter ensures effective firing surface, submarine, air, and shore targets, conduct of operations as a part of a strength group or independently, whether or not against enemy ships pertaining to more heavy weight categories.
A state order for extending this series through constructing the corvettes Boyki and Stoyki is placed at the shipyards of the United Industrial Corporation.
Admiral Vladimir Sergeevich Vysotsky, Commander-In-Chief of the Navy of the Russian Federation, said that by 2030, the corvettes of maritime zone of project 20380 are to become the basis of the Navy of the Russian Federation. As estimated by the Navy command, the national fleet needs tens of new corvettes. In other words, the OPK shipyards initiated not a series production of surface ships in the new Russia, but a high-volume production.
- How does this corvette look like as compared to its foreign analogues?
- These ships are unique in their technical and fighting qualities not only from the perspective of the Russian Navy. There is an export version of project 20380 (Navy ships being built from) – project 20382 Tiger It arouses huge interest of foreign customers. As estimated by foreign specialists, ships of project 20380 have, and, in the foreseeable future, will have, no competitors in their class on the global arms market. That is why we highly estimate export potential of corvettes Tiger – from several billions to two or three tens of billions of dollars.
- Does it mean that Russia will gain benefits on the global arms market?
- Absolutely! Until recently within the framework of the military-technical cooperation, Russia delivered to its foreign customers good up-dated weapon of Soviet design. Russian foreign competitors were expecting that in the next decade the up-grade potential would be exhausted. And then, they believed, Russia would start to lose its partners in the military-technical cooperation and step by step would withdraw from the arms market.
Creation of project 20380 corvettes and design of their export version – project 20382 – mean that the Russian Federation began to elaborate highly competitive "military goods" to be offered on foreign markets and complying with the requirements of the XXI century. They will guarantee holding current positions of Russia in the global arms market and most likely entail expand its role in the global military-technical cooperation.
- What are other fields of concern of the United Industrial Corporation in the war shipbuilding?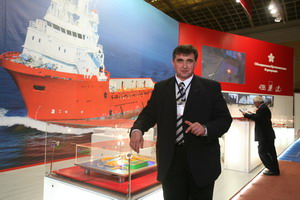 – Today OPK enterprises are at the head of the military-industrial complex: they carry out 75% of the surface shipbuilding programme. In 2008, the Federal Service for Defense Order (Rosoboronzakaz) approved Severnaya Verf Shipbuilding Plant, part of OPK, as a sole supplier of project 22330 frigates, 20380 project corvettes and project 21270 launches. Today only this enterprise of the industry was included into the Registry of sole suppliers of Russian weapons and military equipment three times. Besides, the Federal Industry Agency and Rosoboronexport accepted OPK shipyards as a potential contractor with regard to various orders and countries in 10 directions of the military-technical partnership.
For the benefit of the national fleet, shipyards of the United Shipbuilding Corporation continue construction of project 22350 ocean-going frigates "Admiral Flota Sovetskogo Soyuza Gorshkov", "Admiral Flota Kasatonov" and build a lead communication ship, and special operations craft. We do much work in the area of the military-technical partnership. Currently, we upgrade several vessels of the Algerian Navy.
In whole, OPK shipyards have sufficient capacities to expand the state defense order programme at least three times.
- It was reported not long ago that OPK shipyards have delivered the customer two diesel-electric icebreakers Moscow and Saint-Petersburg. Prime Minister Vladimir Putin attended the ceremony of delivering the second icebreaker. What attracts attention of Prime Minister to the project?
- This visit again confirmed that the authorities of the country attach special importance to maintenance, renewal and development of the Russian icebreaker fleet. As early as in 2000, a month later taking up a position of the President, Vladimir Vladimirovich Putin held a meeting on future considerations on the Russian North aboard the nuclear-powered icebreaker Rossiya. He emphasized then that a powerful icebreaker fleet was to ensure Russia's return to the Arctic and that there was not be any alternative to it, and there could not be. Today we clearly understand that already in the nearest future northern maritime domains are going to become vital for ensuring economic, energy supply, mineral and transport security of Russia.
- From your point of view, what actions are and will be taken by the state?
- The Russian government decided on constructing a series of new nuclear-powered icebreakers with capacity of 60 MW each. In 2007 works on basic design of new nuclear ships were completed, and in 2008 design studies began. The works will be finished in 2009. By 2020 three all-purpose nuclear ships with capacity of 60 MW each and one lead-icebreaker with capacity of 100 MW are to be constructed. An executive decision on placing orders for these vessels have not been made yet. There are a lots of arguments in favor of constructing the majority of new icebreakers, both nuclear-powered and not, at shipyards of the United Industrial Corporation.
- In case you were asked to make special mention of a certain vessel OPK can be proud of, what would you tell about such vessel?
- Well, the world's largest nuclear ship 50 Let Pobedy. The vessel was transferred to the customer – the state – in March, 2007.
Russia disposes of the largest icebreaker fleet if estimated in terms of numbers. It is made up by about 40 vessels of various classes and purposes. Besides, Russia is the only country having icebreakers with nuclear power plants. The acting nuclear-powered icebreaker fleet of Russia numbers 6 nuclear icebreakers, 1 container carrier and 4 support vessels. The major part of nuclear icebreakers (except for Lenin) were constructed at an enterprise currently being a part of the United Industrial Corporation.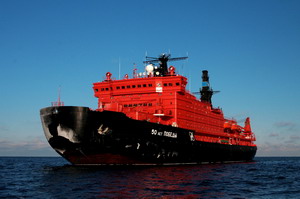 50 Let Pobedy is an undisputed leader of the Russian nuclear-powered icebreaker fleet. The vessel was constructed basing on the revision of the project of the second series of Arctic-type nuclear powered icebreakers. The maximum ice depth for 50 Let Pobedy amounts to 2.8 m. Before the vessel was constructed, nuclear powered icebreakers were able to break ice up to 2 meters deep.
The commissioning of 50 Let Pobedy became a genuine breakthrough in the icebreaker fleet renewal, since the first nuclear powered icebreaker "Lenin", icebreakers Sibir and Arktic, floating factories Lepse and Volodarsky have recently been decommissioned. In 2013, Taymyr and Vaygatch will "retire". Without supply of new vessels, by 2018 the nuclear icebreaker fleet would have only two vessels – Yamal and 50 Let Pobedy.
- And what could you tell us about non-nuclear icebreakers?
- The obvious problem of non-nuclear icebreaker fleet of Russia is its advanced age. Besides, nearly all diesel and diesel-electric icebreaker were constructed abroad. That is why construction of new non-nuclear icebreakers could become the second grand problem of the fleet. However both problems are already being solved by the United Industrial Corporation. The diesel-electric icebreakers Moskva and Saint-Petersburg constructed at shipyards of OPK have become the first non-nuclear icebreakers constructed at domestic plants for more than 30 years.
Both vessels build under the same project are innovatory to a large extent. Their hulls are designed considering new technological developments for reducing energy consumption for breaking ice and improving vessel operating characteristics. The icebreakers with DWT of 10 thousand tons each are equipped with two full-circle steerable propellers ensuring enhanced maneuvering ability. Unique mechanism of the propulsion system improves efficiency of widening and clearing the ice canal. The icebreakers are designed to break ice over 1 meter deep.
- What is your estimation of Russia's need for the icebreaker fleet, both nuclear powered and not?
- According to experts of Vice Prime Minister Sergey Borisovich Ivanov heading the Marine Board of the Government of the Russian Federation, the case is 80 ice class transport vessels of that 14 icebreakers both nuclear powered and not.
The Strategy of Development of the Shipbuilding Industry for the Period until 2020 and further expanded the scales of planned icebreaker construction. The document says: "In order to execute forecasted works on transportation of Russian continental shelf hydrocarbons for the period until 2030, the need for special-purpose arctic transport vessels amounts to approximately 90 items with aggregated deadweight of about 4 mln tons, and for tending fleet to approximately 140 items. Besides, 10-12 new icebreakers are to be constructed (together with icebreakers of various types ensuring sea shipping, this amount is to exceed 40).
- Are Russian shipbuilders ready to carry out this scope of works?
- I am able to answer only for enterprises of the United Industrial Corporation. The experience of constructing icebreakers with atomic power plants of our enterprises is unique both for Russia and the world. They also became domestic pioneers in constructing diesel-electric icebreakers. And as I have already told, we perform profound reconstruction of our manufacturing facilities. In substance, OPK is able to carry out the programme of icebreaker shipbuilding by itself and at proven high level.
- What do you expect from Marine Industry of Russia Forum?
Marine Industry of Russia Forum is to become an outstanding report of Russian shipbuilders and clear evidence of their capacities in the world arena. Last years became a benchmark of the new era in the development of domestic military and civil shipbuilding. Russian designers and draftsmen elaborate advanced technologies complying with the last word in science. Some developments are unique. Shipbuilders carry out large-scale orders both of Russian Navy and within the framework of the international military-technical cooperation, and lay down new ships. Civil shipbuilders successfully carry out orders for Russian and foreign customers, increase production volumes, upgrade facilities, and build new complexes for construction of heavy-tonnage vessels. The outlined growth is based on the active development of public-private partnership in the shipbuilding, great interest of government authorities towards the industry, and government support measures. The development of the shipbuilding entails accelerating efforts of related sectors. On behalf of the United Industrial Corporation, I would like to wish you successful and fruitful Forum work, new prospective contacts and signing mutually beneficial contracts!
Read also: