S. M. Mironov, Chairman Of The Council Of Federation Of The Federal Assembly Of The Russian Federation, greeted guests, participants and sponsors of Marine Industry of Russia International Forum
March 05, 2010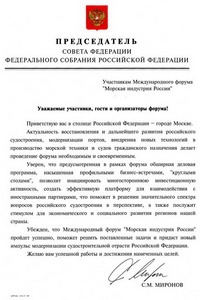 Dear participants, guests and sponsors of the Forum!
I would like to welcome you at the capital of the Russian Federation – Moscow city.
Urgency of restoration and further development of the Russian shipbuilding industry, port upgrading, advanced technologies introduction in the field of marine facilities and civil vessels manufacturing makes the Forum an essential and timely event.
I believe that the extensive business programme filled with industry-specific business meetings and panel discussions will make it possible to initiate the multilateral investment activity, to create the efficient platform for the interaction with foreign partners which would, in its turn, be promotive of resolving a wide range of issues of the Russian shipbuilding industry in the future, and will become a stimulus for economic and social development of all regions of our country.
I also believe that Russian Marine Industry International Forum will be successful and beneficial for the resolution of all set tasks and will give a new impulse to the upgrade of the shipbuilding industry of the Russian Federation.
I wish all of you auspicious works and reaching all your set goals.
S. M. MIRONOV
Read also: